Preventive Dentistry Lake Zurich IL
Teeth Cleaning at Children's Dentistry Group, LLC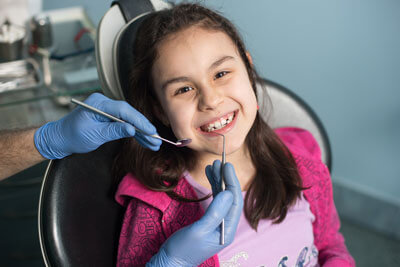 As your child's dentist, we place a significant amount of energy into preventive care. The earlier common dental problems can be screened for, the more affordable and conservative it is to treat them.
During your child's routine checkup, we offer services such as:
Six Month Exams – A child's smile is always changing. Through regular exams each year, we're able to monitor the changes in your child's oral anatomy, in the event any interceptive treatments are necessary.
Teeth Cleanings – We pace your child's visit in a way that is upbeat, comfortable and on their terms. During their cleaning, we'll go over essential oral hygiene skills to help develop healthy habits that last well into adulthood.
Protective Dental Sealants – Placing a protective seal over the deep grooves of back teeth can reduce the chance of decay from forming. Sealed teeth are easy to clean, and the sealant takes only a few minutes to place. No numbing is needed!
Fluoride Treatments – After your child's cleaning, we'll apply fluoride to aid in strong enamel development and resistance against decay. We can even prescribe fluoride for home use if your child is in braces or prone to developing a high number of cavities.
Protective Sports Mouthguards – A custom mouthguard is one of the best investments you can make when it comes to athletic equipment. Our specially fitted mouthpieces reduce the risk of injured teeth, lips and gums.
Digital X-rays – With the help of low radiation dental radiography, we can evaluate your child's developing oral anatomy and intercept problems before they have a chance to become more complex. Digital technology reduces radiation by as much as 90%.
Want to Learn More?
Schedule your family's next appointment with us today! We're open Saturdays.

Preventive Dentistry Lake Zurich IL, Mundelein and Barrington | (847) 726-0300