Meet the Admin Team

Mehnaz, Administrative Assistant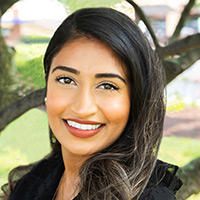 Mehnaz is currently a Psychology Major on the Pre-Dental track studying to become an orthodontist. Mehnaz loves seeing children walk out smiling after getting their teeth cleaned, and believes that if children don't love their dentist, it's difficult to instill proper oral health habits for their future.
Mehnaz looks forward to helping patients have a smooth and comfortable experience at the practice.
Outside of work, Mehnaz enjoys spending time with family and cooking, as well as doing house renovation projects over the weekend.

Susy, Administrative Assistant Born in Belize, Susy moved to Illinois at age 6 and has grown up in the state. Before joining the practice team in 2022, she worked as an administrative assistant for an auto body shop. Her primary duties included payroll and taxes. For Susy, the most rewarding aspect of working at the practice is interacting with patients. Her duties include answering the phones, scheduling appointments, and making confirmation calls.
When she's not working, Susy loves spending time with her two young children and watching sports. She also has two dogs.

Amy, Office Coordinator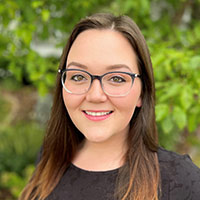 Amy grew up in Kentucky and went to McHenry County College for Medical Coding and Billing program. Her last job was as the office manager of a chiropractic office. As she likes kids and enjoys working with them she was thrilled to join our team in April 2022. Some of her duties include scheduling the team, sending treatment estimates, helping the administrative and clinical assistants when needed, and other day to day tasks. "The most rewarding part of my job is seeing kids leave happy."
When she's not at work, Amy enjoys playing outside with her two daughters, spending time with her family and friends, and trying new restaurants.


Tammy, Benefits Coordinator Tammy grew up around the McHenry area and has worked in the medical field since 2008. As she finds everything about the dental field and the care interesting, and has always planned to work with kids, she decided to switch career paths and join the Children's Dentistry Group, LLC team.
Her duties include verifying patients' insurance benefits for their upcoming visits and treatment. Once the dentist lets Tammy know what the patient needs for treatment, Tammy will contact the insurance company to find out the amount covered. Then she will put together a treatment estimate for patients, so they know how much their out-of-pocket expense will be before they come in for their appointment. She also helps front staff cover when needed, and ensures everyone feels comfortable and happy.
For Tammy, the most fulfilling part of her job is to help kids feel comfortable when they're here. "I know that for kids, going to the dentist can be scary initially. When they leave happy and smiling, and you can no longer see the fear in their face, that's the most rewarding feeling."
When she's not working, Tammy is spending time with her family. "We all love animals, so we spend a lot of time going to zoos or playing in the yard with our 2 dogs and our tortoise."

Holly, Accounts Coordinator A native of Long Beach, California, Holly lived there for about 15 years before moving with her family to Crystal Lake. She started in the dental industry in 2012 and worked as a dental assistant and front desk member at another pediatric dental practice before joining our team.
In her role at the practice, Holly loves working with insurance and resolving problems. Her duties include running through everyone's insurance for the day to ensure their benefits are verified, putting in checks that come back from the insurance companies, and fixing any insurance problems that arise. She also enjoys working with the other team members.
Outside the practice, Holly loves spending time with her husband and their three kids. She also enjoys working on home projects.

Tania, Administrative Assistant/Front Desk Tania grew up here in beautiful Lake Zurich and has lived in the area her entire life. She studied biology at Illinois State University, and worked as a veterinary dental technician for eight years before joining our practice in 2023.
Her tasks include scheduling appointments, checking patients in and out, and helping with any extra administrative tasks. For Tania, the most rewarding part of her job is seeing all the kids who come in for dental care.
Outside the practice, Tania is Mom to her two dogs. She also enjoys hiking, kayaking, and just being outdoors. She's also involved in her church.


Children's Dentistry Group, LLC | (847) 726-0300