Sedation at Children's Dentistry Group, LLC
Comfortable Dentistry for Lake Zurich Kids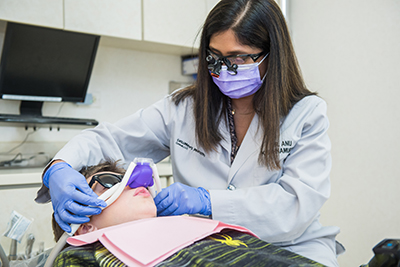 Behavior management is an essential skill for pediatric dentists and their teams. By incorporating special techniques and child-friendly verbiage, we're able to connect with young patients and lower their anxiety during their visits with us.
Tell-Show-Do
Children are naturally inquisitive. Fear of the dentist usually comes from not knowing or understanding what is going to happen next.
That's why we use a Tell-Show-Do approach to basic procedures like cleanings, X-rays and exams. Your child can touch and feel some of the instruments (such as a mirror or suction) to create a sense of familiarity before their care begins.
Nitrous Oxide ("Laughing Gas")
Analgesia is used in most restorative procedures, such as fillings and crowns. Nitrous oxide is the analgesic of choice, as it is fast-acting and extremely safe. The soft nosepiece slips into place and your child breathes a fruity-scented air while we work on their teeth. It can make some children feel sleepy, giggly or tingly in their fingers and toes.
Nervous Parents? We Can Help With That, Too!
If you had a bad experience with the dentist growing up, your anxiety could easily be projected onto your child without you realizing it. Our pediatric dental team wants you to feel just as relaxed as your child that we're seeing. Through close communication with you and your family, we're able to ease the minds and hesitations of parents that may not have experienced positive dental care while growing up.
Want to Learn More?
Contact our office today to learn more about analgesia and sedation dentistry for children.

Sedation Dentistry  Lake Zurich IL| (847) 726-0300