Emergency Dentist Lake Zurich IL
Get Care When You Need It at Children's Dentistry Group, LLC
A dental emergency can be extremely painful and traumatic for your child, not to mention you as a parent. When your little one has a broken tooth, you need a pediatric dental team who can see you the same day!
Some of the different emergencies that we see include: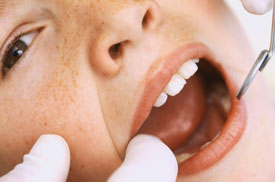 Knocked-out teeth
Chipped or fractured teeth
Abscesses
Gum infections
Athletic injuries
Accidental trauma
Putting Everyone's Mind at Ease
We know that a dental emergency can be scary for the entire family. Our child-friendly team has the experience and resources to help your son or daughter feel comfortable so that you can too.
After we have a full assessment of the situation, we'll be able to discuss which types of treatments may be best to address their oral health needs, both immediately and for the long term. The most important thing is to get your child out of pain; then, we can plan the right type of treatment and get it scheduled accordingly.
Call Our Office
Tooth pain and dental emergencies usually happen when you least expect them. The sooner you call us, the quicker we can help your child. Thanks to our extended office hours, we can see your child before work or school or on Saturdays.
We're Available 24/7
Our team of children's dentists offers 24-hour emergency care every day of the week, even if your child is a new patient. Contact us right away or follow the prompts on our phone line to get in touch with a specialist. We'll walk you through what to do next or direct you to head to our office as soon as possible.
Insurance is accepted. Contact us now!

Emergency Dentist Lake Zurich, Mundelein and Barrington IL | (847) 726-0300